2019.09.01
We had a bilateral meeting with Prime Minister Dlamini and Ms. Dladla Minister of Foreign Affair and international cooperation of the Kingdom of Eswatini (former the Kingdom of Swaziland) on 29th August 2019. They participate in the 7th Tokyo International Conference on African Development (TICAD7) held in Yokohama from 28th to 30th August. We explained our water-saving agriculture technology as a technology that can contribute to the agriculture industry in Eswatini.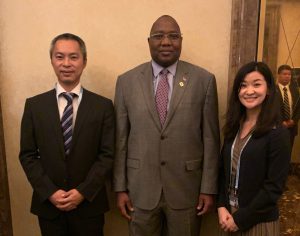 By mixing "Porous alpha" into the soil, the water retention capacity and the aeration in the soil are improved, and irrigation water consumption can be reduced alongside with keeping or improving yield.
This technology has been already verified in various countries such as Japan, Kenya, Mauritania, Senegal, Morocco, and Kenya.
(Please see for the result of the experimentation here.)
In Eswatini, the water area ratio is 0.9% and it faces the serious issue of drought. If water-saving agriculture is realized, crops can be cultivated by using fewer water resources. It can be expected to increase the income of the farmer, improve health and food security issues in Eswatini.
We started the experiment test in the Republic of South Africa from this year to expand the project and business in Southern Africa. We continue to contribute global environmental issues such as food security and water and achievement of SDGs (Sustainable Development Goals) through Porous Alpha, multi-functional porous material made by recycling glass waste.


<Related technology>
Water-saving agriculture

◆Contact
TEL : +81-858-49-6230
Mail : info@t-rrl.jp
You can also contact us through our website from(here)