2019.10.24
(Erfoud, Morocco, 24th October 2019) Tottori Resource Recycling Morocco S.A.R.L., our subsidiary in Morocco showcases the water-saving solution with a multi-functional foamed glass material "Porous Alpha" in La 10ème édition Salon International de Dattes au Maroc, "Sidattes" which takes places in Erfoud, Morocco from 24th to 27th October 2019.
Under the agricultural development plan "Green Morocco Plan (Plan Maroc Vert)", Moroccan government is fostering palm date plantation which has high value added. Currently the plantation area is estimated around 50000ha which is expected to expand.
Date palm plantation requires huge amount of water and fertilizer. Though it depends on the variaties and the ages of trees, it is said that some variaties require 1 cubic metre of watering per day per tree to produce good quality fruit. Besides, the high volume of liquid fertilizer is required. The cost of water and fertilizers are two of the significant cost component.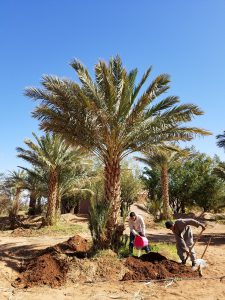 TRRM has verified its water saving solution with Porous Alpha with large scale date palm plantation in Morocco, realizing 50% watering and fertilizer for same growth. (Photo on the left: Installation of Porous Alpha for adult date palm.)
With this solution, for typical date palm plantation, if Porous Alpha is installed at the timing of new plantation, the required water and fertilizer cost can be reduced 25% including cost of Porous Alpha. In case of Porous Alpha application for adult trees, it is possible to reduce 2900 USD/year/ha. (See here for details of our water-saving solution)
By utilizing our technology for date palm plantation which requires significant amount of water and fertilizer for long-term, it is possible to realize cost reduction and better return on investment for farmers, the conservation of water resource and adaptation for short rainfall caused by climate change.
We continues to contribute to better profitability through higher productivity of farmers, underground water conservation through water-saving and adaptation to climate change with our multi-functional foamed glass material "Porous Alpha".
◆Contact
TEL : +81-858-49-6230
Mail : info@t-rrl.jp
You can contact through our website here as well.