2016.07.25
Tottori, Japan – July 19, 2016 – Tottori Resource Recycling, Inc., a foamed glass manufacturer through recycling technology, showcases its water-saving agriculture solution at TICAD VI (Tokyo International Conference of African Development) in Nairobi, Kenya on 25th and 26th August.
TICAD is an international conference on the theme of development of Africa. Since 1993, the Japanese government has taken lead to hold the conference with United Nations (UN), United Nations Development Program (UNDP), African Union Commission (AUC) and World Bank.
In the African continent, the area of arid or semi-arid zone is huge, including the Sahara Desert. Due to climate change, significant drop of precipitation and increased drought have already occurred in various locations. As agriculture accounts 70% of water consumption in general, the water-saving agriculture is one of the serious issues for African development from perspective of food security.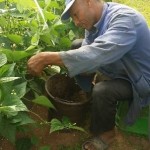 Tottori Resource Recycling showcases, at TICAD VI, its innovative and proven water-saving agriculture solution with "Porous Alpha", a porous material manufactured by foaming used glass bottles. By mixing it into the soil, the pores in "Porous Alpha" increase water retention capacity and improve aeration of soil. The application of "Porous Alpha" for agriculture has been developed with Tottori University, one of the most advanced university and research institution on arid zones. Also this technology is officially registered as transferable environment friendly technology for developing countries by United Nations Industrial Development Organization (UNIDO).
Tottori Resource Recycling has verified its performance in the farms in Kenya, Mauritania, Senegal and now in Morocco where the verification survey is supported by Japan International Cooperation Agency (JICA). In Morocco, the 50% water reduction for irrigation, and at the same time, the 20+% yield increase have been achieved. There results imply that this technology (1) facilitates the recycling of used bottles, (2) drastically saves the irrigation water, (3) provides adaptation measures against low precipitation and drought due to climate change and (4) contributes to "No hunger", one of in the Sustainable Development Goals (SDGs) voted by UN.
(Please refer to next page, you can catch "Food situation in Africa and Agriculture in arid areas"Food situation in Africa and Agriculture in arid areas")
This technology is to be exhibited at side-event held by JICA at TICAD VI as follows
・Place:Sarova Panafric Hotel
・Period of exposition:25th, 26th Aug, 2016
※ Individual meeting can be arranged also on 27th and 28th . Please contact us for details.
Tottori Resource Recycling continues to tackle with these important issues such as waste reduction, water saving for agriculture, increasing yield, and adaptation to climate change all over the world including Africa.
◆ContactTEL: +81-858-49-6230 (Naoyuki KANO)Mail : naoyuki.kano@t-rrl.jp

You can contact us through our Web site. (Please click here)